Oriental Rugs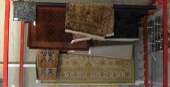 Woven area rugs, weather they be hand knotted or machine made, are not the same as your wall to wall carpeting and can not be properly cleaned in the same manner. Area rugs (also called oriental rugs) should, whenever possible, be removed from the home or business and cleaned in a controlled "in plant" environment. Cleaning a rug in the home can result in permanent damage to the rug as well as the floor under it. Golden Gate Carpet Cleaning will come to your home, pick up your rugs, bring them to our plant, clean them, and deliver them back to you.
How our cleaning is performed:
1. First (while still dry) the rug is put through a dusting process to remove all the dry soil. Remember almost 80% of all the dirt is dry particulate soil.
2. All dye is then tested to make sure it will not run once it gets wet. If it's not stable the rug is treated in order to stabilize the dye.
3. The rug is then shampooed with soap specially made for hand knotted rugs.
4. The rug is completely soaked, cleaned, rinsed and the excess water is removed. The pile is set, and it is hung to dry.
5. After the rug is dry the fringe is cleaned and the rug is ready to be returned to your home.
6. * If there is any doubt about the stability of the dye the rug is not hung to dry, but rather dried while laying flat on the floor.