Inspections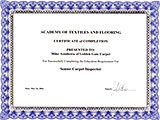 IICRC Certified

Do you have a problem with your carpet? Is it a warranty problem, incorrect installation problem, or maintenance problem? We can answer these questions. Mike is certified by the "Institute of Inspection Cleaning and Restoration Certification" (IICRC) as a practicing Senior Carpet Inspector.
As an Independent inspector he is able to perform unbiased inspections because our company does not manufacture or sell carpet. Mike's work experience, combined with attendance at highly specialized training courses – including written examinations – qualifies him to provide expert analysis and opinions on many carpet-related issues.
Written Inspection Report

We will come to your home or business, inspect the carpet, perform all necessary field testing, and supply you with a written report. At Golden Gate Carpet the correct answer is what matters most, not whatever may be the most convenient for the retailer, installer or carpet manufacturer.
Sometimes the carpet has to be replaced, but quite often, simple corrections are all that are necessary. In such cases we can perform the corrections with very little inconvenience to you.
Remember
Avoid Uneducated, Uninformed, and Sometimes Downright Unscrupulous Carpet Cleaners!